At Aikey's Kitchen and Bath, we're proud to offer a wide range of bathroom designs to suit any taste and budget. Whether you're looking for a simple update or a complete overhaul, we can help you create the bathroom of your dreams. From traditional to contemporary, our team of skilled designers will work with you to create a space that is both stylish and functional. So if you're ready to take your bathroom to the next level, come visit us today. We'd be happy to show you what we can do!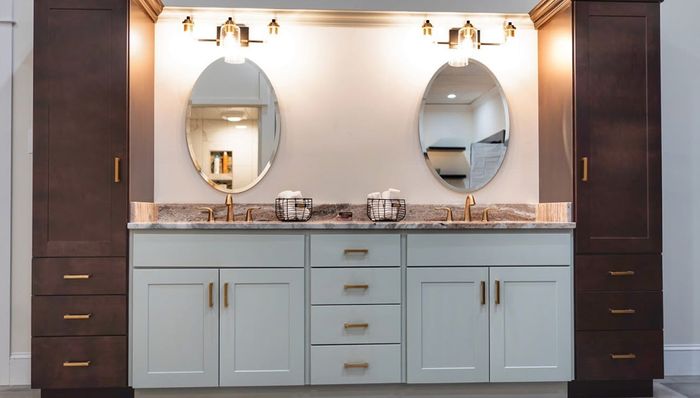 Our bathroom Designs
This master bath is on display in our showroom and features double towers designed to hold all your towels, linens, toiletries and more. The fixtures have a champagne gold finish to nicely complement the Wolf Classic cabinetry colors. The double vanity is shown in Palmetto; the towers are shown in Brownstone.
There are many features that can be built in to your custom shower such as seating, foot rests and ledges. Come check out the tile work in this shower and bath combination on display in our showroom.
A bathroom can add both resale value and luxury to your home. Our bathroom designs are custom-made to fit your specific needs and style preferences. See our showroom for bathroom vanities, tile work, shower enclosures, and more. Our Aikey's Kitchen and Bath team is here to help you with your bathroom remodeling needs. Contact us today to get started on your custom bathroom design!